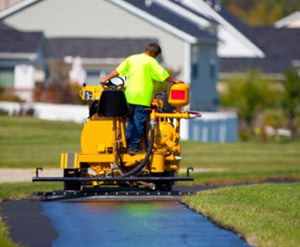 Why You Should Sealcoat Your Florida Parking Lot
Aug 31st, 2016
Although an asphalt parking lot can last 10 - 30 years, it can deteriorate much sooner if it is not protected. Florida's hot sun and heavy rains can be particularly damaging to asphalt pavement, causing it to fade and weaken over time. That's why experts recommend Florida sealcoating on you parking lot every 2-3 years.
Protect Your Florida Parking Lot from Damage with Sealcoating
Over time, asphalt pavement in Florida lightens and becomes brittle, sometimes to the point of breaking up and not being able to support heavy loads. Fortunately, avoiding this scenario and the unsightly appearance of discolored, cracked pavement is easy. A little preventative maintenance in the form of regular Florida sealcoating can go a long away in preserving your parking lot pavement.
Professional application of Florida sealcoating every few years can, in fact, extend the life of your parking lot's asphalt pavement. The sealcoating process adds a protective coat and seal that shields the actual pavement from the effects of harsh weather and chemicals. Regular sealcoating decreases damage from oil, fuel, and water; protects asphalt from oxidation, extreme heat and weathering; and inhibits cracking and chipping.
With regular sealcoating, your Florida parking lot pavement will be strong, durable, and safe.
Improve Your Florida Parking Lot's Appearance with Sealcoating
Customers, clients, tenants and passersby will judge your facility by the first thing they notice - your parking lot. If it's faded, cracked, or weed-infested, they'll think twice about doing business with you.
To keep your parking lot looking well maintained and safe, regular sealcoating every 2 - 3 years is a must. Sealcoating dramatically improves your parking lot's appearance, giving your facility the curb appeal you want. The fresh, deep black color and visible parking and traffic lines you get with proper sealcoating give your facility an inviting, safe, cared for look.
Save Money with Regular Sealcoating
In addition to improving the appearance of your parking lot and increasing your property value, regular sealcoating every 2 - 3 years can save you money. Asphalt repairs can be very expensive, whereas affordable sealcoating protects your asphalt and minimizes the need for repairs. In fact, regular sealcoating can double the life of your pavement.
Start protecting your investment today. To get a free estimate for our high quality, affordable sealcoating and paving services, call Liberty Sealcoating at 1.888.957.2836 or submit our Free Estimate form online.