Skilled Craftsmanship, Durable Results
Liberty Sealcoat supplies workmanship and materials to achieve a durable, sound surface coating to protect asphalt from the elements. Liberty Sealcoat's Florida asphalt maintenance projects are expected to last at least 36 months. We use materials that will stand the test of time. We also incorporate our own additives to the slurry mix that have been proven to enhance the bonding characteristics, burning behavior, aggregate suspension and durability of seal-coat materials over the last 27 years.
Actually, if you don't do the Florida asphalt maintenance job properly, then you shouldn't do it at all. There are very few advantages to thin coats that wear out quickly. But there are tremendous advantages to Florida sealcoating if applied correctly. A property owner can extend the life of his asphalt investment by 300 percent while saving about 48 percent on repaving costs. You can't lose with Liberty Sealcoat.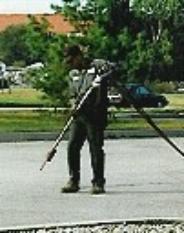 Proper Tools Make The Difference
The device in the photo to your right is a professional sealcoater's tool called a TAFA unit torch (3,000 degrees Fahrenheit, 3,000 feet per second velocity). Somewhat expensive to operate, this very hot air dryer is necessary for proper material adhesion on almost 70 percent of our sealcoat applications. However, only 9 percent of all sealcoating companies nationwide have it. Being in the industry for 27 years is important; having the right tools for the job is also very important. Liberty Sealcoat is equipped with all the proper tools and equipment to do the job right the first time.
Unprotected Asphalt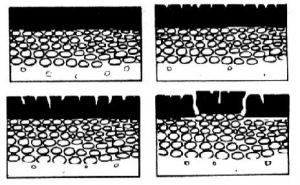 It's just a matter of time before fresh new asphalt looks like it's 10 years old. Keep the surface protected and asphalt will last 300 percent longer.
Diagram #1 = 1-3 years
Diagram #2 = 3-5 years
Diagram #3 = 5-7 years
Diagram #4 = 7-9 years